Saturday officially inaugurated a monumental work drawn on lawn grass under the Eiffel Tower in French capital Paris, the action depicts a set of arms and nested hands lined up on a single line.

The work was done by spraying the colors on the grass at a distance of over 600 meters in the park of "Champ de Mars" in the center of French capital Paris, which can be seen better than the top of the Tower .

The work was made by the French painter Saype (Guillaume Legros), who specializes in the drawing of huge paintings that biodegrade in a way that does not harm the environment.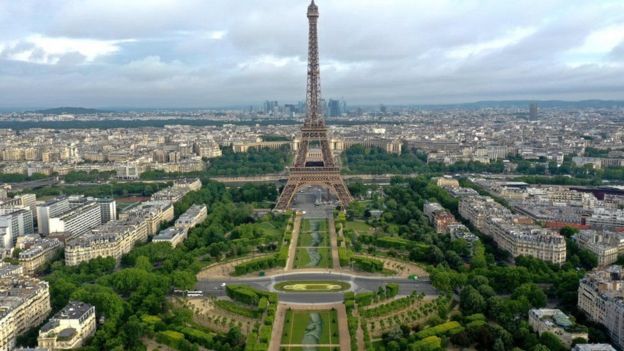 His latest work (Behind the Walls) shows a series of overlapping arms and hands, which he donated to the Mediterranean Association, a charity that works to save migrants who risk their lives in the Mediterranean sea.

His works have appeared on the slopes of the mountains and in public parks in different parts of the world, and these works of art remain for a few days before they disappear into the ground after having decomposed into their natural elements in ways that not to have harmful effects on the environment.
"(The work) is a symbol of synergy and solidarity at a time when people are transforming themselves more and more," Saype said in an interview with The Guardian newspaper, referring to the growing trend towards 'selfishness.

The artwork, was inaugurated on Saturday during a ceremony in the presence of the Mayor of Paris as Ann Hidalgo.
The opening of the work is the beginning of a three-year project by the artist Saype, in which he will present his work in 20 major cities around the world.

London, Berlin, Nairobi and Buenos Aires will host similar paintings of hands and arms entangled.